| | |
| --- | --- |
| | 劇透警告:這篇文章或部分內容涵蓋漫畫或動畫中沒有涉及的情節細節,請謹慎閱讀。 |

歡迎來到刀劍神域Wiki
本wiki的內容涵蓋了《刀劍神域》的輕小說和相關作品。
最新消息,《刀剑神域 Alicization War of Underworld》下半1季度將於2019年10月12日首播,並將於每週六的日本標準時間24:00(UTC+8 23:00)更新。The Blu-Ray/DVD list on the official site have revealed that War of Underworld will be split into two cours with a one cour break; the Autumn cour will consist of 12 episodes, while the final cour will be aired in spring and consist of 11 episodes, for a total of 23 episodes for the second half of Alicization and 47 episodes for the entire season. The first two episodes were aired early at a pre-screening event in Japan on October 6, 2019, followed by pre-screening events in Australia, Germany, France, and the United States of America that same day. The anime is directed by Ono Manabu.
Additionally, the Dengeki Autumn Livestream Festival held on October 6, 2019 unveiled that the second volume of Unital Ring is slated for a December 10 release. The livestream also unveiled a demo for Alicization Lycoris featuring Asuna as a playable character, as well as another demo for Alicization Blading (Rising Steel) and another original animated scene for the game, featuring Sortiliena's past and part of her battle with Eldrie. The game stage also announced the winners of the Alicization Lycoris outfit design contest. Finally, the stream revealed that Ronye and Tiese customisation options for the player's avatar will be included in the Winter Update for Fatal Bullet.
In other news, a manga adaptation of Sword Art Online's short story collection stories has been announced to be serialised on the Sword Art Online magazine, starting with volume 9. Volume 9 was released on September 27, 2019 and featured a complete adaptation of The Day Before side story. Other side stories that will most likely be adapted include The Day After, Sisters' Prayer, and Rainbow Bridge.
Meanwhile, the Tokyo Game Show was held on September 14-15, 2019. An SAO stage was held on the first day of the event, during which a new opening theme, "Selfrontier" by ASCA, was unveiled for Alicization Blading (known as Rising Steel globally), while the game's original character was revealed to be named Edith Synthesis Ten. The opening theme will be included in ASCA's 1st album, to be released in November. Additionally, Alicization Lycoris also received a teaser for a new trailer and the finalists for the Lycoris outfit design contest have been announced.
In older news, a what-if Alicization story titled "If You Were Here" was released with the eighth Alicization BD/DVD on August 28, 2019. The story tells the tale of what would have happened if Eugeo and Kirito had not broken the Taboo Index at the academy. Half of the story was released beforehand in the form of the author's Material Editions.
飄浮在無限蒼穹當中的巨大岩石與鋼鐵城堡。
這便是這個世界所能見到的全部景象。
在一群好奇心旺盛的高手花了整整一個月測量后,發現最底層區域的直徑大約有十公里,足以輕鬆容納下整個世田谷區。再加上堆積在上面百層左右的樓層,其寬廣的程度可說超乎想像。整體的檔案量大到根本無法測量。
這樣的空間內部有好幾個都市、為數眾多的小型街道與村落、森林和草原,甚至還有湖的存在。而連接每個樓層之間的階梯只有一座,階梯還都位於充斥怪物的危險迷宮區域之中,因此要發現並通過階梯可以說是相當困難。但只要有人能夠突破阻礙抵達上面的樓層,上下層各都市的「轉移門」便會連結起來,人們也就可以自由來去兩個樓層之間。 經過兩年的時間,這個巨大城堡就這樣被逐漸地往上攻略,目前已到達第七十四層。
城堡的名稱是「艾恩葛朗特」。這座持續飄浮在空中、吞噬了將近六千人,充滿著劍與戰鬥的世界。它的另一個名字是——
「刀劍神域」。
}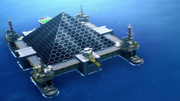 The «
Ocean Turtle
»
(オーシャン・タートル

,

Ōshan Tātoru

?

)
is a mega-float located in the Pacific Ocean, at a place near Izu Islands about 250 kilometres away from Tokyo, that is run by
Rath
and acts as a government research facility for «
Project Alicization
», an effort to create a highly adaptive
Artificial Intelligence
.
Feel free to contribute to the wiki, just remember the following:
Light Novels take precedence over other forms of media.
Novels & Material Editions > Anime > Manga > Other
For people who want to upload images, please read our Image Guideline first.
If you are uploading light novel or manga screenshots please include page and volume number in the title.
Fan content (including fan art, fan fics etc.) is not to be used in the content of official pages. However, they may be freely used on personal user pages or blogs, so long as the Unofficial Image and Personal Photo categories are added to any unofficial image.
Do not forget to add appropriate categories to any page you might be creating.
Be articulate.
Remember to use Template:T for names and terms.
Always add appropriate infoboxes when creating articles.
If you use content from other websites, it is best to obtain permission. We do not want angry villagers with torches and pitch-forks.
A page can only be linked once per article. The first mention should be linked to the said article. For example, the first mention of Kirito in an article should be linked, while the second mention of Kirito shouldn't be.
For the full list of SAO names see Official Naming, here is a common used name list

Kirito
Asuna
Klein
Agil
Lisbeth
Silica
Kuradeel
Leafa
Heathcliff
Sinon
Additionally, if you are looking for work on the wiki, check out our community page for some useful links and suggestions on what to work on.
If you ever encounter an issue that you as an editor can not fix, the Admin Support may be able to address your problems. Just contact one of our admins through the convenient threads already in place.

Alicization第36集 - 一束光芒
於2019年12月28日播出

刀劍神域輕小說第23卷
於2019年12月10日發售
ISBN 978-4-04-912891-8

刀劍神域Alternative Gun Gale Online第9卷
於2018年12月7日發售
ISBN 978-4-04-912093-6

刀劍神域Alternative Clover's Regret第3卷
於2018年8月10日發售
ISBN 978-4-04-893971-3